copyright 2001-2013 Everett Companies LLC
EVERETT INFRARED PROVIDES COMPREHENSIVE CONSULTING SUPPORT ON ALL ASPECTS OF ELECTRO-OPTIC TECHNOLOGY
Everett Infrared Technology has been providing support to clients from the very smallest to the very largest since 1996. While infrared is by far the most widely used spectral band for untold numbers of applications, we have also designed sensors for both visible and UV applications. While infrared sensors are often used in thermal conditions ranging from room temperature to cryogenic temperatures, visible and UV sensors are often used at more elevated temperatures. The choice of the spectral band and type of detector that will be used depends almost entirely on the requirements of the application, and Everett Infrared has the experience and expertise to help our clients select the best solutions for their specific requirements. While Everett Infrared has only been in existence for something less than 20 years, our experience with electro-optic detection of radiation goes back well into the '70s.
Infrared detectors frequently need to be operated at low temperatures in order to reduce thermally generated noise. Often these temperatures are in the 80-50 K range and sometimes as low as a few degrees or even less above absolute zero. Our experience with the containers, called dewars, for the detectors operated at these reduced temperatures goes even further back into the early '60s. We have designed or supported our clients' design of laboratory dewars that were cooled by liquid helium or liquid nitrogen as well as tactical dewars using Stirling cycle or Joule-Thompson coolers. We also have substantial experience using thermo-electric or Peltier coolers for more moderate temperatures.
We have the expertise to select the appropriate detector for each application taking into account both performance and cost considerations. Photodiodes such as HgCdTe, InSb, InGaAs, Ge, Si and SiC often provide the best performance where the semiconductor bandgap is matched to the wavelength of the radiation being detected. Photoconductors such as HgCdTe, PbS and PbSe provide a somewhat reduced level of performance but also at lesser cost. Microbolometers made from a variety of materials from various metal oxides to amorphous silicon that are operated at near room temperature often provide a very high level of performance at the lowest possible cost. All of these detectors can be used as single elements to simply detect the presence of radiation or as linear or two dimensional arrays to provide spatial definition, an image of it. Linear arrays are also used with gratings in spectrometers for spectral analysis of the incident radiation. Thermal detectors such as thermopiles and pryoelectric detectors are used for a wide variety of low cost commercial applications. We have designed sensors around all of these detectors covering all parts of the electro-magnetic spectrum from long wave infrared to UV and even gamma rays.
We provide consulting support to our clients to help them develop the best possible electro-optic sensor that will meet their specific requirements. This includes not only the detector but also the analog and digital electronics needed to extract the detector signal and present it to the user with the greatest possible signal-to-noise ratio. Our sensor electronics frequently include microprocessors that generate control signals and/or process the data generated by the sensor in whatever manner is needed.
Below are photographs of a few of the prototype sensors we have developed with our clients. The final sensors are, of course, much smaller.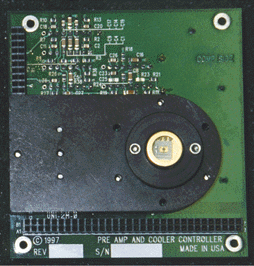 PROTOTYPE HELICOPTER ICING DETECTION SENSOR - The detector shown through the window above is temperature stabilized thermoelectrically. It detects the radiation emitted by the leading edge of the helicopter's rotating blades and passes that signal to a microprocessor in an external module (not shown) that then determines when ice starts to form. The same technology can be used to detect icing on fixed as well as rotary wings.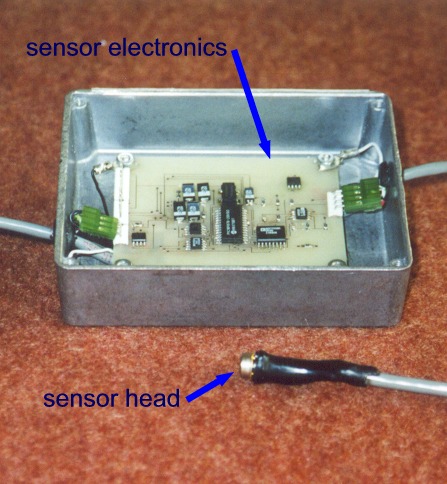 PROTOTYPE REMOTE TEMPERATURE SENSOR WITH BOTH ANALOG AND DIGITAL ELECTRONICS - The radiation emitted by the target is detected by the detector in the sensor head. The analog electronics captures the detector signal, and the digital electronics determines the target temperature from that signal.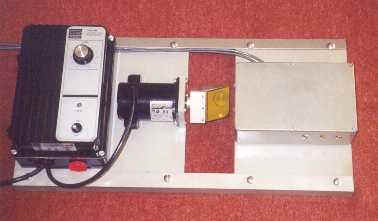 PROTOTYPE HORIZON SENSOR FOR SMART MUNITIONS AND MISSILES - The sensor is a small unit inside the box on the right. The motor with rotating mirror is used to simulate the natural rotation of the projectile so that the performance of the sensor can be easily evaluated on the ground. The sensor determines the vertical direction from the detector signal and passes that information to the control electronics.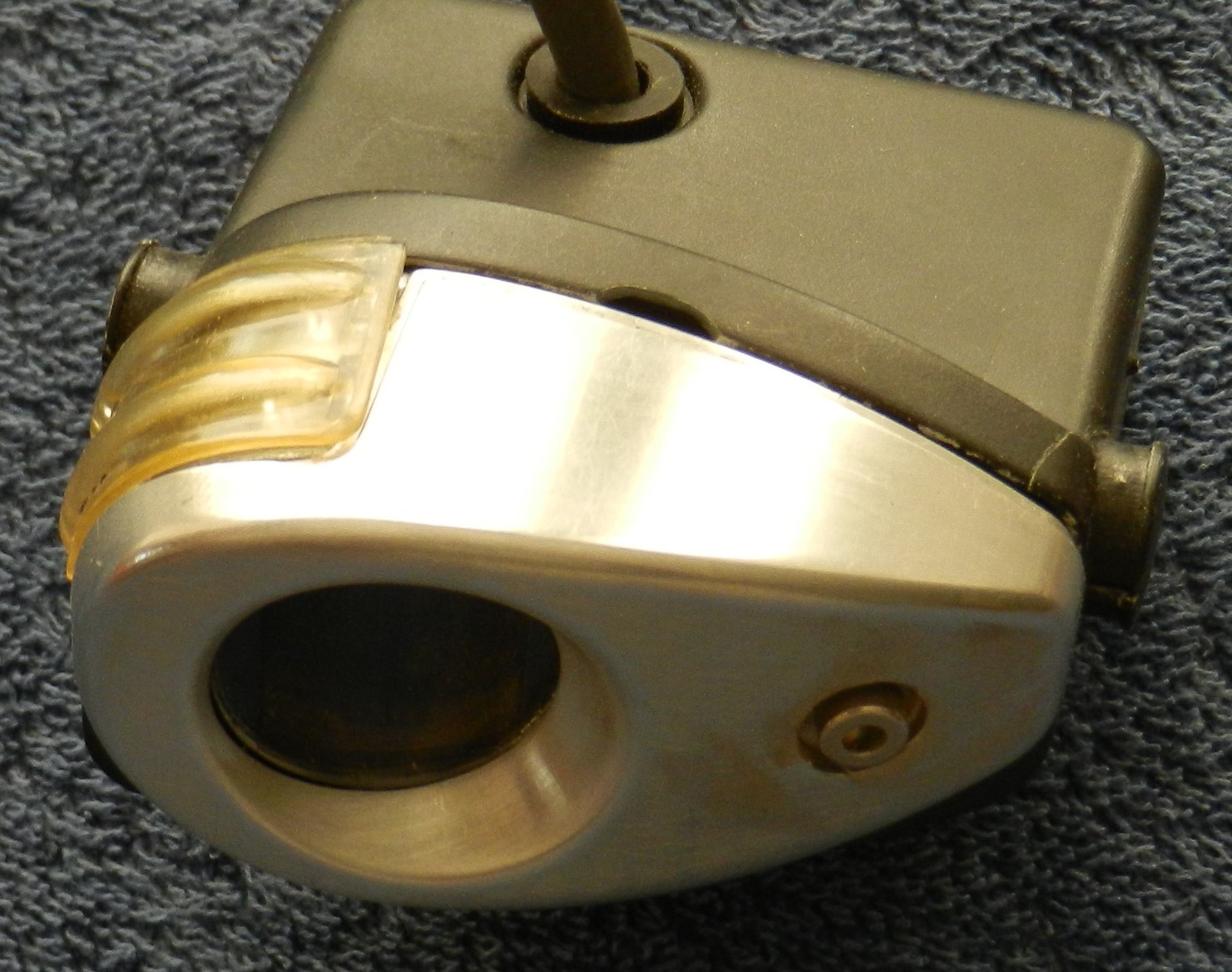 AUTOMOTIVE VEHICLE BLIND SPOT DETECTION SENSOR - The sensor mounts underneath the vehicle's external rear view mirror. An eye safe laser diode on the right emits radiation into the solid angle of vehicle's blind spot. The radiation reflected from the front of the intruding vehicle is detected by the detector behind the Fresnel lens on the lower left. Red and green LEDs are behind the plastic cover on the upper left. The green LED is illuminated when no vehicle is in the blind spot, and the red LED flashes when an intruding vehicle is detected. The sensor shown mounts on the right side of the vehicle. A mirror image sensor is used on the left side.
In addition to the examples shown above, Everett Infrared has worked with its clients to develop many other types of electro-optic sensors and cryogenic dewars. Some of these are:
road icing detection

hand held non-contact temperature measurement

oven temperature control

hot glue dispenser control (cardboard box assembly)

security sensors (motion detection)

room occupancy detection

portal passage (remote detection and counting of customers entering and leaving department store)

moisture content measurement

large electrical transformer cooling oil contaminant measurement

oil/water cut measurement (at oil well head)

airborne detection of leaks in natural gas pipelines

remote gas release detection and measurement

ethanol vapor concentration measurement

flame detection

subsystems for military applications

human proximity sensor (consumer product)

noninvasive blood glucose measurement

dewar design

| | |
| --- | --- |
| | large liquid nitrogen cooled dewars for commercial and airborne applications |
| | small Stirling cycle and Joule-Thompson cooled tactical dewars for military applications |
| | liquid helium cooled dewars for superconducing magnets |
While Everett Infrared is relatively small, we have a great deal of expertise developed designing all sorts of electro-optic sensors and associated equipment for a wide variety of applications. Our objective is to provide state-of-the-art electro-optic technology to our clients. Infrared technology in particular is finding wide spread application in everything from non-contact temperature measurement to the detection of minute (as well as not so minute) contaminants through spectral absorption. Many problems that have proven difficult or even intractable in the past often have simple and elegant electro-optic solutions. Everett Infrared is uniquely positioned to effectively use this technology to resolve these issues. Most of our experience comes from our work in the aerospace and defense industry where this technology was developed to its highest level. We are now applying the technology to a wide variety of industrial and commercial as well as military applications.
Links to two white papers are given below. The purpose is to explain to potential users how these sensors work. The first, "Physics of Electro-optic Detectors", gives a fairly complete explanation of the electromagnetic spectrum and how the various types of detectors detect that radiation. The second, "Preamplifiers for Electro-optic Detectors", describes fairly elementary but basic designs for electronics that interface to the various detectors and extract the signals from them. A discussion of more advanced electronics would go beyond what we are trying to do here and result in an entire book of one or more volumes.
Physics of Electro-optic Detectors (pdf version)
Preamplifiers for Electro-optic Detectors (pdf version)
(Click on the link below to download a reader for pdf files.)
Click on
for a free download of Adobe's pdf reader.
Infrared and Electro-optic Technology
Everett Companies LLC
Phoenix, Arizona, USA
telephone: 480-706-4753
email: email@everettinfrared.com